Specials
** Teacher appreciation special **
Teachers get $5 off regular massage prices:
$55/60-mins, $75/90-mins
Pregnant clients get $5 off regular massage prices:
$55/60-mins, $75/90-mins
add 30 minutes to any massage for no additional price
Can apply to all massages during your birthday month!
Also applicable to massage certificates redeemed within the recipient's birthday month!
Small Businesses
"Employee/Customer Appreciation" Certificates (in-office table massage)
"Massage Day" at your business (on-site chair massage)
Parties, Events
"Massage Day" at your office, party, event, conference, etc. (on-site chair massage)
"Massage Day"
I contract out my services for an entire morning, afternoon, or whole day to provide free on-site chair massage for your guests, clients, employees, or attendees.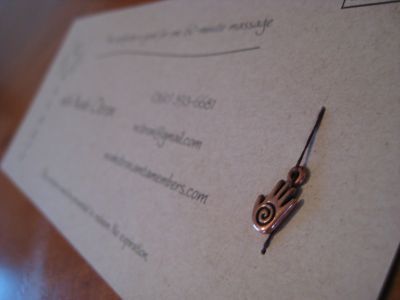 60-minute in-office massage: $60
90-minute in-office massage: $80
First-Time Client?
take $10 off your first massage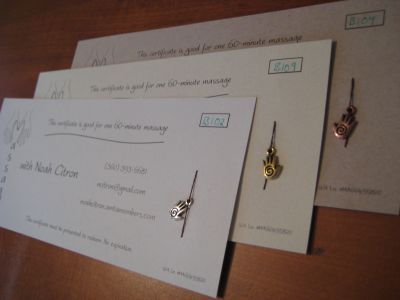 Gift Certificates
1 x 60-minute in-office massage: $60
1 x 90-minute in-office massage: $80
Gift Certificate Packages
3 x 60-minute in-office massage: $150
3 x 90-minute in-office massage: $225
Gift Certificate Policies:
Gift Certificates may be purchased using cash or check. Order via email or "Contact me" form or just ask me in person at your next session!
Gift Certificates are valid for the session length indicated. No cash value. No expiration.
Gift Certificates are physical certificates and must be presented to redeem.
Gift Certificates are not connected with any individual, so I encourage you to gift individual massage certificates to friends and family!

I incorporate a variety of massage techniques in my practice depending on your personal needs and preferences. My massage most closely resembles a blend of the two modalities described briefly below (Swedish and Deep Tissue massage).
My techniques affect different components of your body, including neuromuscular tension (tension within muscle fibers or at a neuromuscular junction) and fascial tension (tension in your connective tissues that can restrict normal movement at joints and between individual muscle fibers, tendons, ligaments, bones, internal organs, and skin). I incorporate myofascial releases, trigger/tender point releases, active stretching, contract/relax, and other techniques, depending on what works best for the individual muscle or area I am working on.
When applicable and with your approval, I may apply heat or cold to an area and/or use a specific sequence of strokes to help enhance the rate of cleanup and return of lymphatic fluids (the waste products of healing processes, which can get backed up at areas of injury and exacerbate swelling).
Swedish Massage
Swedish Massage is a very relaxing and therapeutic style of bodywork. Using an emollient (e.g. oils, lotion, cream), Swedish massage consists of five standard strokes to provide a sense of connection and balance in the body. The benefits of this type of bodywork are wide-ranging and include relief from aches and pains, decreased stress levels in the body, enhanced mental clarity, and greater flexibility.
Deep Tissue Massage
Deep Tissue Massage is a highly effective method for releasing chronic stress areas due to misalignment, repetitive motions, and lingering injuries. Due to the nature of deep tissue work, open communication during the session is crucial to make sure that you don't get too uncomfortable. Keep in mind that soreness is not uncommon after the treatment and that you should drink plenty of water during the 24 hours before and 24 hours after your massage.

I encourage new clients to download and print (double-sided preferred) their first-day forms at home and bring them already-filled-out to our first appointment. This allows you to truly reflect on these questions and to completely and accurately fill out these forms.
The links below contain forms to be filled out before we start the massage. It generally takes 10-15 minutes to fill out the "Contact and Medical History" form, so printing and filling out this form at home greatly accelerates the intake process! Please take a few minutes to read through my
Policies and Informed Consent" document as well.
I'll have copies of everything at our appointment, but filling out the "Contact and Medical History" form at home helps to reduce the paperwork of our initial session.

(Information, Policies, and What To Expect)
Water – Please drink plenty of water during the 24 hours both before and after your massage. Well-hydrated tissues are generally more receptive to receiving bodywork, and massage can dehydrate body tissue much faster than normal, so starting off well-hydrated and maintaining hydration are key factors in sustaining the positive effects of your massage treatment.
Music – Soft instrumental music is typically played during massage sessions. If you prefer silence or a specific playlist (one that I have played before or that you want to bring in), please let me know.
Your Treatment – Your massage is your massage. Throughout the session, I encourage you to let me know what you like, what you don't like, if the pressure is too intense, if I hit a tender spot, or really anything that might make your session more successful. All cushioning, including the face cradle, can be adjusted easily – the last thing I want is for you to endure an awkward neck position for an hour!
Clothing – Before your massage begins, you will dress down to your level of comfort while I wait outside the room. How much clothing is appropriate to take off or leave on depends on your comfort level and what you want from the massage. Here are some tips to help you decide:
- Keep in mind my policies on draping and extent of touch (below), which are not affected by your clothing choice.
- Direct contact with skin is typically the most relaxing and will provide the most effective treatment. Many clients prefer to remove all clothing for their massage, allowing the therapist's hands to flow seamlessly across the entire back and from the side of the torso to the upper legs.
- I am happy to provide a massage even if you stay fully-clothed. Many aspects of bodywork can be done over clothing as long as the clothing is not bulky. Some clients are more comfortable with a thin layer of clothing, usually just over private areas.
- At the minimum, please avoid jeans, and remember to remove belts, wallets, watches, earrings, jewelry, etc.
- Note: Depending on the style of your individualized massage treatment, you may be asked to keep your clothes on during a treatment or you may be asked to dress in shorts and t-shirt.
For after your massage:
- Massage oils occasionally stain clothing. It is a good idea to dress (or bring other clothes) with this in mind.
- People often feel slightly chilled for a few hours after receiving massage, so it's a good idea to have an extra layer of clothing to wear after your massage (e.g. sweatshirt and pants).
Draping of Sheets and Extent of Touch – Full-body massage does not include private body parts. I have a strict draping policy, meaning I will never expose or touch private areas (groin, gluteal cleft, nipples) at any point in the session. Please feel free to let me know if there are other areas you prefer I avoid.
Note: If your treatment indicates specific work on your pectoralis major muscle (partially under the breast), I may ask that you wear a sports bra or swim top so that I can work this muscle without risking exposure.
Sexual misconduct – I strive to maintain a safe, supportive, and relaxing professional environment. Sexual touch and sexual activity are inappropriate in the context of massage. If you perceive any action or comment as inappropriate or uncomfortable, please let me know.
Confidentiality – All interactions and information between therapist and client are confidential and may not be shared without the client's written permission except in cases where explicitly required by law.

There are many emollients out there marketed for massage. I use the most hypoallergenic, organic, and sensitive-skin-friendly emollients from a wonderful brand called Sacred Earth Botanicals, which happens to be located in Eugene, OR.
While any product has the potential to cause irritation or reaction in a client whose skin is sensitive to it, I choose to use these emollients because they have ingredients that are highly unlikely to have such an effect. As I am constantly in contact with my products, I also want to minimize my own risk of reaction or developing contact dermatitis.
I use two products: Sacred Earth Botanicals' Vegan Massage Cream and Vegan Massage Oil. They are organic, vegan, and not tested on animals. They also have the added bonus of feeling great and absorbing wonderfully so that most clients report not feeling at all "oily" after a massage.
I gladly welcome any feedback you have (positive or negative) about your experience receiving massage with these products.